Nature's Lab Gold CoQ10 + Alpha Lipoic Acid + Acetyl L-Carnitine HCl - 60 Capsules
90-Day Money Back Guarantee
Made from only the Purest Ingredients
$4 Standard Shipping

Nature's Lab Gold CoQ10 + Alpha Lipoic Acid + Acetyl L-Carnitine HCl provides three key nutrients that are necessary for energy production in all cells of the body, working together to support heart and cognitive health.*
Key Benefits:
Supports Cognitive Health

*

Supports Energy Production*
Supports Cardiovascular Health*
Supports Cellular Energy Production*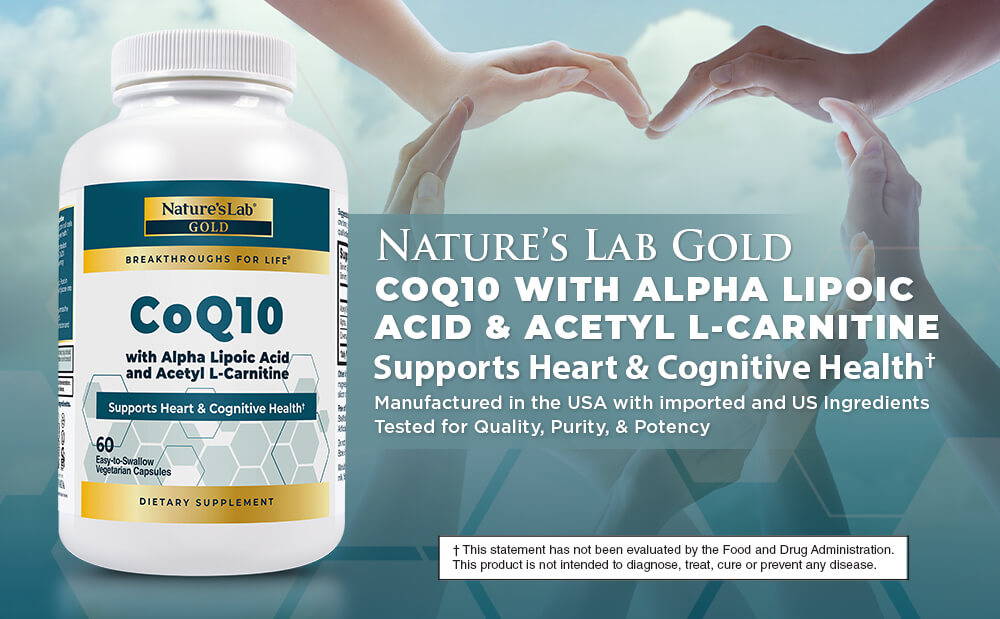 Each 2 capsule serving of Nature's Lab Gold CoQ10 + Alpha Lipoic Acid + Acetyl L-Carnitine HCl contains:
200 mg Coenzyme Q10
300 mg Alpha-Lipoic Acid
500 mg Acetyl L-Carnitine HCl
Coenzyme Q10 (CoQ10) is a powerful fat soluble antioxidant compound made naturally in the body through the cells. CoQ10 has been shown to support heart health, and the body's energy production.* The highest concentration of CoQ10 is found in the kidneys, liver, heart and pancreas. CoQ10 concentrations naturally decrease as we age. Statin use is also known to reduce CoQ10 levels.*
CoQ10 is highly synergistic with Alpha Lipoic Acid and Acetyl L-carnitine for energy production and increased heart and cognitive health.*


Alpha Lipoic Acid is an antioxidant made by the body; found in every cell, its primary function is to aid in the conversion of glucose into energy. Alpha Lipoic Acid has been shown to combat free radicals as both a fat and water soluble antioxidant, thus making it work more efficiently throughout the body including in the heart. Antioxidants in the body are depleted as they attack free radicals, but evidence suggests that Alpha Lipoic Acid may help regenerate antioxidants to make them active again.* Recent clinical research shows how Alpha Lipoic Acid supports heart health.*
Acetyl L-Carnitine HCl is a well-researched nutritional supplement. It is synthesized to provide a more bioavailable form of L-carnitine, an important amino acid. Acetyl L-carnitine functions as an antioxidant and promotes the production of glutathione, a free radical scavenger, in cells.* Studies suggest Acetyl L-Carnitine also supports cognition, energy production, and glucose health.*
"I have been taking the Nature's Lab CoQ10 for several months, Previously I had been ordering this product from Amazon. With my last purchase I ordered directly from Nature's Lab primarily due to the Loyalty Program. I will continue to do so as I will earn savings on future purchases, and the delivery is fast."
-- Judy L.
Text